NEW ALBUM!  TUESDAY'S CHILD - ALYSE KORN & ROBERT KYLE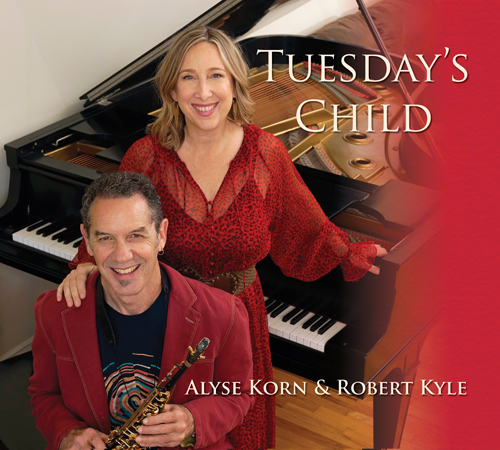 Listen Now: https://alysekornandrobertkyle.hearnow.com
TUESDAY'S CHILD comprises nine captivating compositions written and performed by jazz pianist/vocalist ALYSE KORN and veteran reed player ROBERT KYLE. The songs are intimate and lyrical, inspired by their love of Jazz, Brazilian and Afro-Cuban music.
CD $15.00 / Download $10.00
Purchase "Tuesday's Child" here: https://armusic.org
Latest Track
LISTEN TO A TRACK FROM 'TUESDAYS CHILD' 
0:00/5:04

0:00/6:07

0:00/4:36
WHAT CRITICS ARE SAYING: 
"The nine original compositions have laid-back intimacy that emphasize the delicate, haunting qualities of Alyse Korn's piano and voice along with Robert Kyle's melodious saxophones and flute." - Joe Ross, Roots Music Report 
"Playing piano and bringing in an ethereal voice, Alyse Korn teams up with woodwind player and percussionist Robert Kyle's warm tenor sax … the team is crystalline and wondrous." - George W. Harris, Jazz Weekly 
"Highly recommended for fans of jazz and contemplative music listeners, along with those who have followed earlier acoustic driven ECM recordings. Truly a peaceful and uplifting listen that is both creative and inspiring." - Wesley Derbyshire, Hi-Res Edition 
"The songs transcend their inspirations. As the old nursery rhyme says, Tuesday's Child is full of grace, and this is such an apt title for the album… a musical island of peace and introspection. The instruments on each track softly sing to each other and sing to both the present moment and to the individual moments of each song." - Ben Miller, Jazz Views (UK)
"A very peaceful and uplifting listen, during these often turbulent times, this harmonic and polyrhythmic affair is quite refreshing." -  Tom Haugen, Take Effect 
WHAT FANS ARE SAYING: 
"What an amazing performance of the 4 incredibly talented people! Love that you two wrote all the songs that are on the album…still can't decide what one I like the best! Thanks for sharing your love of music and inspiration" - Carol P., Ojai Conscious Lifestyle 
"It was amazing. Listening to you & Rob's album as I write this. Magical really…and yes the day was as stunning as the performance" - Alicia R.
NPR Interview - Judy Carmichael's Jazz Inspired: 
https://www.jazzinspired.com/browse-shows/robert-kyle-amp-alyse-korn
 
Find Out How to Work with Alyse