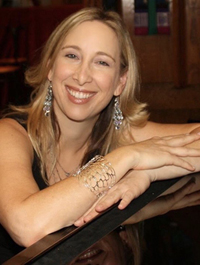 Alyse Korn (Ojai, California) international pianist/keyboardist, vocalist, composer, arranger, bandleader, sound therapist and music educator.
Born and raised in Miami, Florida, Alyse comes from a musical and artistic family. Drawn to the piano, Alyse took lessons at a young age. The piano became her passion, her voice. She accompanied her middle school choir, played piano in her high school jazz band and then professionally on stage at age fourteen with the Mike Ramirez Big Band. She cut her teeth working with community college jazz bands who needed a piano player.
While attending the University of Miami, she got calls to work in trio settings. One of those experiences was a steady gig with Dr. Ed Calle, a Latin Grammy Award Winner for Best Instrumental Album and a reedman who is a five-time Grammy nominee. Alyse also honed her craft working with Salsa bands, casuals, and at various hotels, playing solo piano gigs.
After earning her BM from the University of Miami in Studio Music and Jazz in 1990, she moved to Los Angeles and earned her MFA from Cal Arts in Jazz Piano performance. She later attended USC Thorton School of Music in the Jazz Studies Department as a Doctoral candidate. Her jazz mentors include Ron Miller, David Roitstein, Alan Broadbent, Mark Levine, Alan Pasqua, Russ Ferrante, Otmaro Ruiz, Steve Weingart and Gina Saputo. 
When musicians realized she could play Salsa, Alyse found herself working with some of the most popular Los Angeles based Latin bands - Susie Hansen, Orchestra Opa Opa and Son Mayor. Additionally, the busy pianist was hired to play Brazilian music with Sonia Santos and Anna Gazzola for their Brasil Brazil shows. Alyse was featured on Chilean composer and guitarist Waldo Valenzuela's album titled, "The Light of the Sixth Sun." She played with Jennifer York's jazz quintet and toured Japan with contemporary jazz saxophonist, Sonya Jason. She recorded for  television and performed in theatre productions. 
Alyse relocated to Ojai, CA in 2019 with her husband Robert Kyle, veteran reed player, composer, arranger and producer, and their Dutch Shepherd. They relocated to Ojai for a fresh start and to be closer to nature.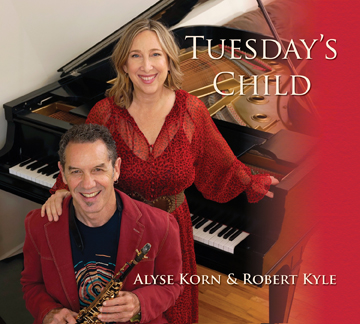 Alyse and Kyle released their first album "Tuesdays Child" in 2023 on Kyle's label, Dark Delicious Music. "Tuesdays Child" is a collection of warm and inviting original compositions with jazz, Brazilian and Afro-Cuban influence. "There's a lot of turmoil in the world today.  We hope that when people listen to our music, they will feel the peace that we feel when we play it." she says.
"A captivating album that allows listeners to fall into deep contemplation… the transparency, dynamics, and depth have made the album a joy to listen to. Highly recommended for fans of jazz and contemplative music listeners, along with those who have followed earlier acoustic driven ECM recordings. Truly a peaceful and uplifting listen that is both creative and inspiring."- Hi-Res Edition by Wesley Derbeyshire 
Together, Alyse and Kyle have performed at Ojai Underground Exchange, Beatrice Wood Center for the Arts, Libretto Paso Robles, The Grape, The Lost Chord, Santa Monica College performing arts center, San Ysidro Ranch, Canary Hotel, Bacara Resort, University Club Santa Barbara,  Beverly Hills "Affair in the Gardens," Chevy Chase Country Club "Jazz Nights," LA Museum of Natural History, Campus Jax, UUC of Santa Clarita, Casa Arjona, The Loft Gallery, Mt. Olive "Jazz Vespers,"  Northridge UMC "Jazz Vespers," Martin Cohen's "Jewish Cuba" photo exhibition opening, "Z" Space Minneapolis, Cafe Violetto Coral Gables, Prosperity Pie Portland, Altadena "Artist's Open Studios,"  Beverly Hills "Affair in the Garden" Art show and "The Conference Room." 
A music teacher for more than 30 years, Alyse is passionate about sharing her knowledge and joy of music with students of all ages. She earned advanced teacher certification in Suzuki piano and Suzuki Early Childhood music pedagogy from the Suzuki Association of the Americas. Alyse teaches online at her private studio in Ojai. She also travels to teach jazz piano, theory, improvisation and early childhood music programs at Suzuki Institutes around the USA, Canada and Brazil. Her piano students receive awards and honors in music evaluations and competitions, including the areas of performance, improvisation, theory and composition.  

PIANO/KEYBOARD PERFORMANCE EXPERIENCE 
RECORDINGS 
- Alyse Korn/Robert Kyle, "Tuesdays Child" on Dark Delicious Music, 2023 
- Waldo Valenzuela, Chilean guitarist/composer "The Light of the Sixth Sun" Latin-Jazz Album, 2012  
- CalArts Jazz – Recorded original compositions at Capitol Records, "Refrigerator Blues" 
                           Reviewed in Jazz Times; December 1991 
LIVE PERFORMANCES - Representative List, 1980 - present 
Venue locations include: Canada, Europe, Japan, North Africa, South America and United States 
-Téka and New Bossa - (Brazilian Bossa Nova, Samba, Brazilian Jazz) 
- Irish Dreams Quartet – Traditional and contemporary Irish music. 
- Alyse Korn & Robert Kyle Duo/Quartet 
- Alessa Brazilian Mood trio 
- Waldo Valenzuela (Chilean jazz guitarist/composer)  
- Orquestra Son Mayor 
- LA Salsabuena 
- Noche Azul 
- Aliso Trio
- Amira Saqati, Marrakech, Morocco 
- John Stephens Jazz Big Band  
- Dr. Jimmy McConnell Jazz Big Band  
- Joe Vento Jazz Big Band 
- Echo Park Project
- Jarana Timba Band
- Susie Hansen Latin Band
- Bobby Matos Latin Jazz Band 
- Bob DeSena Latin Jazz Band 
- Tre-Dos Latin Jazz Band 
- Some Party – Indie Rock 
- Marcus Watkins Sintet 
- Nedra Wheeler Jazz Quartet 
- Sonya Santos and Anna Gazolla Brasil Brazil Show 
- Orquestra Opa Opa  
- Conjunto Guarani  
- Sonya Jason Quartet (Toured Japan) 
- Ingrid Jensen Jazz Quartet (Vienna, Austria) 
- Leslie Baker Jazz Trio  
- Katarina New Latin Jazz Band 
- Jennifer York Jazz Quartet 
- Marcos Lloya Latin Jazz Quintet 
- Jaimi Valle Latin Jazz Quintet 
- Lissette Alvarez – Singer, Songwriter 
- Napoleon – Latin Pop Vocalist 
- Television: Wonder Years 
- "A Chorus Line" – Palmdale Playhouse 
- Santa Clarita Valley Unitarian Universalist Church, CA; Pianist, Accompanist  
- Congregation Beth Shalom, Santa Clarita, CA; Pianist, Accompanist 
- Our Lady of Perpetual Help Parish, Santa Clarita, CA; Organist 
- Christian Science Church, Santa Clarita, CA; Pianist, Accompanist 
ETHNIC MUSIC PERFORMANCES 
- Performing Member Los Angeles Music Center On Tour Program and Roster of the California Arts Council Touring Artists; 1995 - 1998 
- CalArts African Music and Dance Ensemble; CAP program, 1990 – 2007  Performed throughout Los Angeles at schools, museums and cultural festivals, including Plaza De La Raza, Watts Towers Day of the Drums Festival, NAMM convention, PASIC Convention, Los Angeles Children's Museum, Valencia Art and Sports Festival, UCLA Music Festivals, CalArts Spring Music Festivals 
- CalArts Balinese and Javanese Gamelan Music and Dance Ensemble, Gamelan Burat Wangi; CAP program, 1990 – 2007   
Performed throughout Los Angeles at schools, museums and cultural festivals including: UCLA Asian Student Association festival, UCLA Annual Folk Festival, UCLA 40 year Anniversary for Gamelan 
"A Night at the Kraton", UCLA International Friendship Festival, Royce Hall with Kronos Quartet,  
CalArts Music Festivals, UCSD and SDSU festivals 
- World Kulintang Institute and Research Studies Center; 1995 – 1998 
Non-profit organization dedicated to preservation, education and presentation of ancient Gong/Drum music from the Southern Philippines. Under the direction of Eleanor Academia, performed throughout Los Angeles at schools, museums, cultural events and festivals, including Watts Towers Day of the Drums Festival, Asian Pacific American Heritage Month, Festival of Philippine Arts and Culture, International Citizen of the Year Awards, and Los Angeles Children's Museum Youth Arts Day 
MIAMI, FLORIDA; 1980 - 1990 
- Mike Ramirez Jazz Big Band 
- Miami Dade Concert Jazz Band 
- Broward Community College Concert Jazz Band 
- University of Miami Concert Jazz Band 2 
- University of Miami Jazz Ensembles 
- Ed Calle Jazz Trio 
- Llama Viva Salsa Band  
- The Miami Heat Band 
- Dana Paul Orchestra 
- Hotel Sofitel Solo Piano 
- Palm Beach Polo Club Solo Piano 
- Sheraton Hotel Solo Piano
Click below to listen to Track 01, "Gratitude" :